DOT•PLUG Breakaway Wiring System
for Roadway Lighting Systems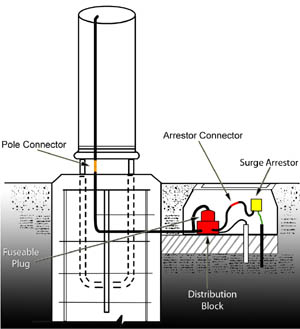 The DOTPLUG (PCDS or MCDS) is an IP-68 submersible (6 ft water), modular plug and cable system that allows the circuit components (i.e., the low-amperage, fast-acting, current-limiting fuses; the surge arrester where desired; and the conductor splices) to be placed in an underground junction box adjacent to the pole foundation. The circuit breakaway connector can be positively positioned at the top edge of the conduit inside the pole base. Since the stiff, typically no. 4 or no. 6 copper, conduction cables never enter the pole, the system unplugs at ground level when properly installed. The impact that knocks down the pole will not put stress on the electrical cables and will not weaken splices in adjacent poles. Most important, with the PCDS, there is no exposed electrical hazard upon knockdown as exist with non-AASHTO compliant conventional wiring methods. When this system is combined with a properly installed foundation, the possibility of fire and explosion or electrical shock is significantly reduced if not eliminated.

DOTPLUG AASHTO/PASSIVE SAFE Compliant Method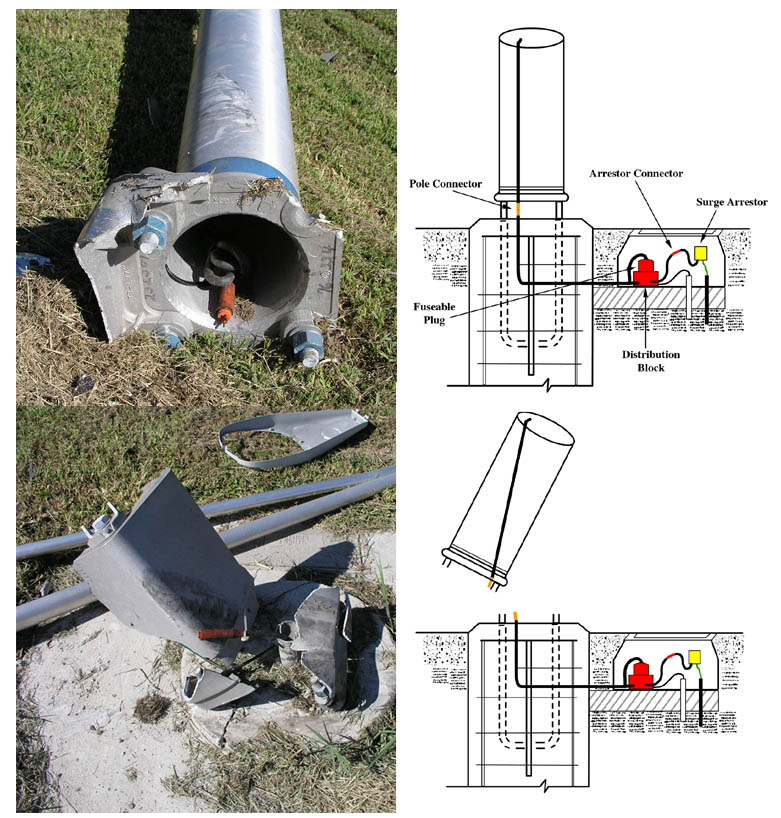 The MG²/Duraline PCDS (DOTPLUG®) is a great example of a current product that meets current AASHTO standards and avoids the electrical, fire, and trajectory hazards of conventional wiring methods. Avoiding these hazards also greatly reduces the liability of the DOT, Utility Companies, design engineers, and others in relation to the electrical wiring system. Another benefit from the use of this type system is the reduction of maintenance/repair cost and time. Further advances like the incorporation of a "ground fault circuit interrupter" (GFCI/ELCI) into the wiring systems is helping avoid fatal and costly accidents resulting from worn or poorly maintained Municipal lighting systems. It is essential that as a DOT, Municipality, Utility Compnay or as a electrical engineer; that they be educated to avoid these hazards and to abide by all current AASHTO and/or Electrical Standards.


Conventional Non-Compliant Method



Conventional wiring and the use of "Breakaway fuse holders" frequently perform improperly during an accident situation. Rather than properly separating, the device frequently pulls off the wire, leaving an exposed end that is potentially deadly. These widely used "breakaway fuse holders" have not been certified by testing, nor do the systems they are installed in meet the latest AASHTO standards. There are documented cases of motorists who survived the impact with a luminaire pole, only to be subsequently killed from the resulting explosion, fire, or electrocuted from exposed conductors on, near or under a vehicle. The explosion and fire are usually caused when the fuel tank ruptures, the vehicle having been caught on an improperly constructed foundation, and the electrical system sparks repeatedly until the fuel explodes. In other incidences, medical personnel have been delayed from attending to victims because of the risk of electrical shock from exposed conductors near or under a vehicle